THE NeON® 2 - The solar panel of the future available today. With great low light and excellent high temperature performance, double sided cell technology and 12 wire busbars.
The LG NeON® 2 has seen many improvements, from longer warranties and higher efficiency to stronger frames and better wind loading. This panel is ideal for homes seeking a visually pleasing solar panel and for roofs where space is tight or where future system expansions are considered e.g. to incorporate battery storage.
The LG NeON® modules with their double sided cells and CELLO technology absorb light from the front and the back of the cell. This technology sets a new standard for innovation and was recognised with the 2015 Photovoltaic Innovation Award at the Intersolar Industry Event in Germany. LG also won the 2016 Intersolar award for our new NeON BiFacial range.
Great Visual Appearance
LG NeON® 2 panels have been designed with appearance in mind. Their black cells, black frames and thinner wire busbars give an aesthetically pleasing uniform black appearance. Your home deserves the LG NeON® 2.
25 Years Product Warranty (Parts & Labour)
The LG product warranty is 15 years longer than many competitors standard 10 years and covers 25 years. The Warranty is provided by LG Electronics Australia and New Zealand. The warranty includes replacement labour and transport.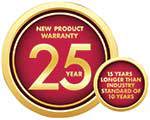 More power per square metre
LG NeON® 2's 355W are a similar physical size to many competing 300W panels. This means with the LG NeON® 2 355W you get 18% more electricity per square metre than a 300W panel. So you can install more kW of solar on your roof with the LG NeON® 2.
Improved 25 Year Performance Warranty
The initial degradation of the module has been improved from -3% to -2%, in the 1st year and the annual rate of degradation has fallen from -0.7%/year to -0.5%/ year thereafter. This brings an 86% warranted output after 25 years, compared to 80.2% for many standard panels.