Dennis Donnelly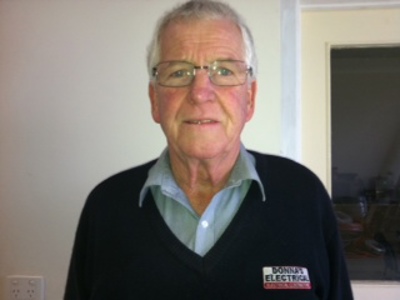 Director/Electrician/Technician/Refrigeration/Air-Conditioning
Bio
Born in Edenhope and started his Electrical Apprenticeship in Naracoorte in 1972. Started Contractors Business with Pam in 1979. Now has Over 45 years Experience!! The OL' Donna (Nickname hence business name Donna's Electrical) we call him 'Mr fix-it', as he will have a go at and capable of fixing anything. Over the years has built the Business up, with his professionalism, trust and loyalty, gaining many Contracts, successfully obtaining special dealings, being Area Service Agents for a lot of associated Companies.
Now the years have flown by, Donna leaves the heavy work to his two Sons, Kane & Zack and concentrates on Air Conditioning quoting, installation, service and repairs-Refrigeration, Appliance repairs and Warranty Work. With all his experience, you will find Donna mainly in the workshop for helpful good advice or repair work.
Donna has played in a couple of NFC A grade Premierships and after years of commitment to the Club is a LIfe Member. Leisurely loves a chat with his mates and his heart beats true for the Melbourne Demons, also enjoys a spot of fishing and his involvement in the racing game with his family.