Solar Hotwater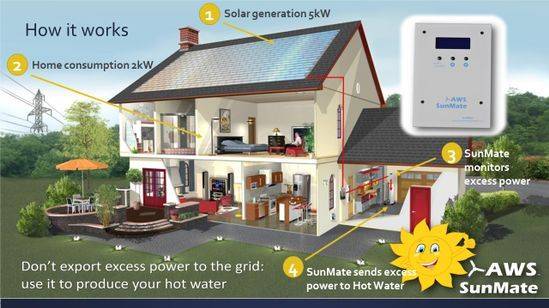 If you own a solar system or wind turbine it is probable that 50% or more of the electricity generated will be exported - given away - to the electricity grid.
The AWSTM Sun Mate is an innovative renewable energy management product that will use all the surplus power generated by your solar or wind power to produce hotwater. Every unit of power used to heat the hotwater in this way reduces imported energy by the same amount resulting in a significant saving in imported energy costs.
The AWSTM SunMate will work with any solar system or wind turbine and uses a standard electric hot system to produce free hot water.
The advanced SunMate controller ensures maximum usage of solar and/or wind power that would have been exported. The system is simple to install and will not affect your feed-in tariff payments.
No Need To Change Your Existing Electric Hot Water Unit
Easy To Install
Boost/Timer Function
Accurate power measurement
Precise intelligent power control
Highly reliable dual redundant solid state power electronics
LCD Display
5 Year Warranty
Visit
AWSTM Sun Mate
website for more information.