Solar Hotwater
Green CATCH is a device that utilises your existing solar installation to heat your hot water.
Taking control of your solar energy
CATCH will divert the solar energy that is excess to your home and use it to heat your hot water. Forget about constantly changing tariffs.
Save hundreds of $/year!
There are significant savings to be made by making better use of your solar electricity.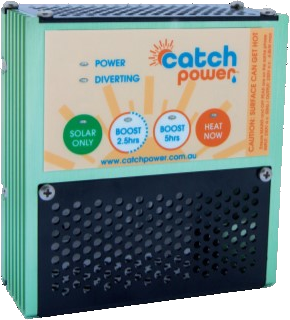 Intuitive programming to improve efficiency
CATCH is always assessing how much off-peak has been used and adjusting to maximise the use of your solar.
How does it work?
Green CATCH is simply a diverter of solar power that is excess to your household.
CATCH is installed in the meter box.
CATCH monitors power coming and going from your premises; when the diverter senses power leaving it redirects that power to your hot water service.
The CATCH Control Pad gives the owner greater control of their hot water heating allowing for shorter days in winter, or an extra boost if required.
The Control Pad can be adjusted to heat water immediately (from general tariff electricity), to never using the mains at all. Great if you are going on holiday!
Green CATCH will automatically adjust the timer set to make the best use of your solar. It learns every day.
Check out Glen Morris from Smart Energy Lab's review of Catch Power.